Northern Wisconsin Lake Cabin Rentals
Welcome to Hidden Acres Resort, your home away from home for northern Wisconsin lake cabin rentals.  Our four cabins are nestled in among tall pines with plenty of breathing room, on a dead end road, for a true northern Wisconsin lake cabin rentals experience.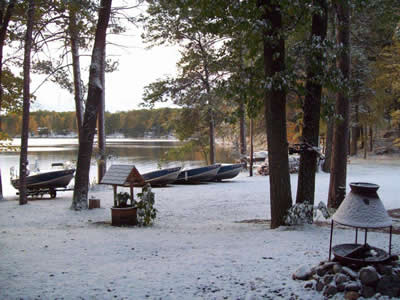 Each of our northern Wisconsin lake cabin rentals front directly on the northwest shore of beautiful Iron lake in west central Bayfield county Wisconsin. A Lund boat model wc-16 with eight hp electric start Honda outboard and fuel is included, along with firewood for your private campfire, with a Hidden Acres Resort northern Wisconsin lake cabin rentals.  This is a great place to get young kids panfish fishing,  and small northerns bite all season long, with the crappie fishing bite occurring in mid to late may, and the peak bluegill fishing bite sometime in early to mid June.  Large northern pike can be caught anytime and become more active in the fall, from mid September on. Bring the whole Family fishing, a Weeres pontoon boat, with Honda outboard is available for rent, daily or half days.
Enjoy the unlimited activities while vacationing, great ideas for day trips include fish, canoe, hike, hunt, the Brule River State Forest.  Just minutes from our northern Wisconsin cabin rentals.  Go beachcombing just a few miles north, on the south shore of Lake Superior with miles of uncrowded space.  Wander in the thousands of acres of county, state,and federal forest.  Bring your mountain bike and explore CAMBA the off-road bike trail system, in and around our local Chequamegon-Nicolet National Forest.  Bring your ATV, or rent one in Iron River and come and go right from Hidden Acres Resort, Our town ship roads are signed ATV routes.  The North country trail passes just south of our location for the more hardy trail walkers. Wild life abounds and it is not uncommon to see bald eagles,blue herons, deer ,beaver, sometimes black bear during your stay at Hidden Acres Resort, northern Wisconsin cabin rentals. Have an affordable old fashioned family vacation, don't forget to bring the dog!  Hidden Acres Resort is dog and pet friendly.
Hidden Acres Resort provides a great base to explore northern Wisconsin.  To our north, from the mouth of the Brule river, to Washburn lies the Bayfield Peninsula, which includes lake Superior's Apostle Islands National Lakeshore, the northern section of the Cheguamegon- Nicolet National forest, and the small towns of Iron River, Port Wing, Herbster, Cornucopia, Red Cliff and Bayfield.  A ferry ride to Madeline Island is always a treat!  To our south, is mostly forested all the way to the towns of Cable and Hayward.  Due east we have Ashland, Bad River, also the Northern Great Lakes Visitor Center, a great stop for the whole family.  The small town of Brule and the Brule River State Forest are just a few minutes west, with the twin ports of Duluth/ Superior, America's largest international fresh water port, less than one hour away.
Read an article by outdoor writer Jerry Davis in the Hidden Acres Resort mentioned in Wisconsin State Journal

Please feel free to give us a call and book your stay today.  In this busy world we will work with your schedule days, weeks, or longer term stays that can all be adjusted to your individual needs.  Thank you from Lori and Mike at Hidden Acres Resort, laid back northern Wisconsin lake cabin rentals.